Los Angeles teachers begin their first strike in 30 years to demand smaller class sizes, more support staff at schools and better pay.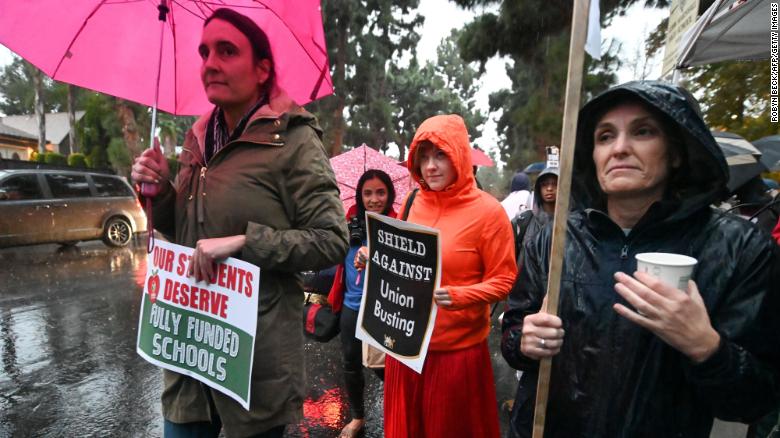 More than 32,000 teachers and staff are walking off the job today in LA.
Under a relentless drizzle of cold rain, 32,000 Los Angeles educators walked off the job Monday in the country's second-biggest school district.
That means about 600,000 kids have no idea when they'll see their teachers again. Weeks of heated negotiations between the United Teachers Los Angeles union and the Los Angeles Unified School District went nowhere, leading to the city's first teachers' strike in 30 years. But this strike isn't focused on teachers' salaries.
"It's absolutely not the pay raise. It's about class size reduction. In other words, hire more teachers," said Andrea Cohen, who's taught at John Marshall High School for 24 years. "We want to have fully staffed schools. That means librarians, nurses, psychiatric social workers and their interns. We have 46, 45, 50 students in a class. It's unacceptable."
Both the union and the school district say they want smaller class sizes, bigger teacher salaries, and more counselors and nurses in the district's roughly 1,000 schools. The big debate revolves around how much to fund them. While the adults keep struggling to find a resolution, students are still expected to go to school during the strike.
— United Teachers Los Angeles (@UTLAnow) January 14, 2019
Culled From
CNN
.