President Trump says U.S. issuing "emergency order" grounding all Boeing 737 Max 8 and Max 9 aircraft after Ethiopia crash.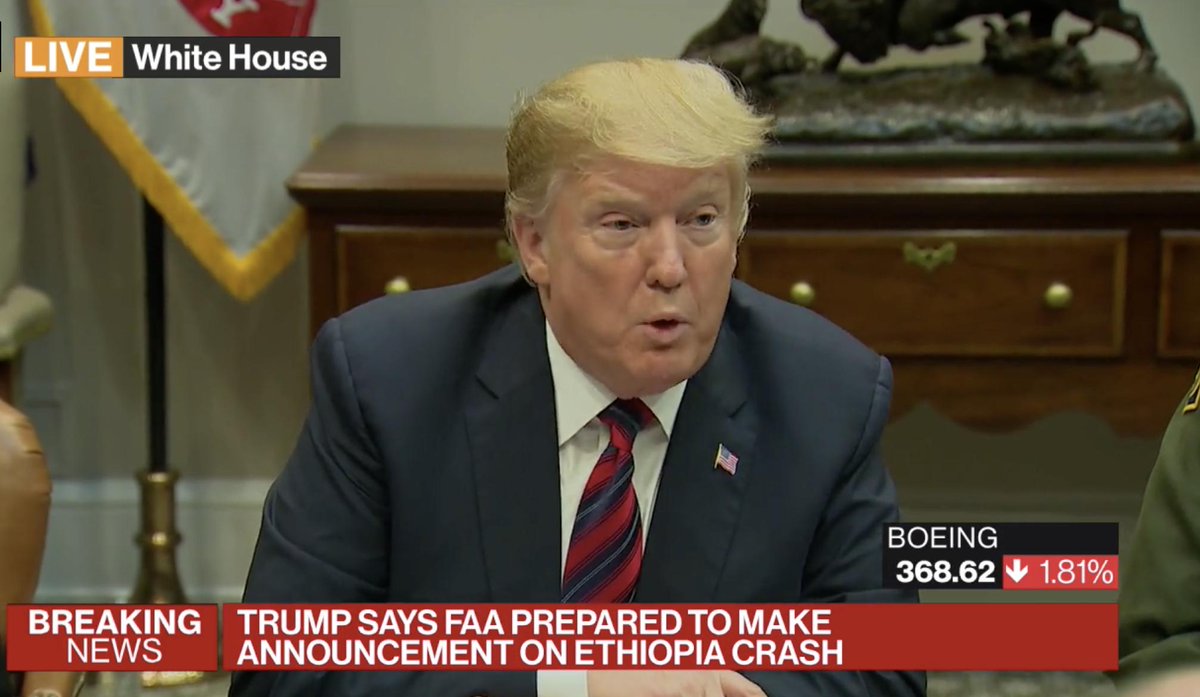 President Donald Trump announced Wednesday that the FAA was ordering the immediate grounding of all Boeing 737 MAX 8 and MAX 9 aircraft in the U.S., a decision that comes after days of mounting pressure from other countries that left the U.S. as one of the last to make the call after a deadly crash in Ethiopia.
"The safety of the American people, of all people, is our paramount concern," Trump said, adding that the grounding would take effect as soon as the planes landed and would continue until further notice. "Pilots have been notified. Airlines have been all notified. Airlines are agreeing with this," he said. The president said the decision was made based on new evidence that had come to light. "The FAA is prepared to make an announcement very shortly regarding the new information and physical evidence we've received from the site and from other locations and through a couple of other complaints," he said.
"We've had a very, very detailed group of people working on the 737 8 and the 737 9 new airplanes. We're going to be issuing an emergency order of prohibition to ground all flights of the 737 Max 8 and the 737 Max 9 and planes associated with that line." Shortly afterward, the FAA issued a statement saying "the agency made this decision as a result of the data gathering process and new evidence collected at the site and analyzed today. "This evidence, together with newly-refined satellite data available to the FAA this morning, led to this decision," the FAA said.
"The grounding will remain in effect pending further investigation, including examination of information from the aircraft's flight data recorder and cockpit voice recorder."
In an important caveat, Trump said the decision to ground the planes "didn't have to be made" but was made for a number of reasons, he said, including "psychologically and a lot of other ways." The president said he'd spoken with the Transportation Secretary Elaine Chao, as well as the CEO of Boeing, and the acting administrator of the FAA and that all agreed on taking the action. And for the first time, President Trump directly expressed sympathy for the victims of the crash, calling it a "terrible tragedy."
The president also called Boeing an "incredible company." Just Tuesday, Boeing's CEO had lobbied Trump against any grounding but right after Trump's announcement issued a statement saying it supported the move.
"We are supporting this proactive step out of an abundance of caution.
Safety is a core value at Boeing for as long as we have been building airplanes; and it always will be," the Boeing statement said. At the same time, the statement said, "Boeing continues to have full confidence in the safety of the 737 MAX."