Today marks 2 years to go until the World Fair opens its doors in Dubai for #Expo2020!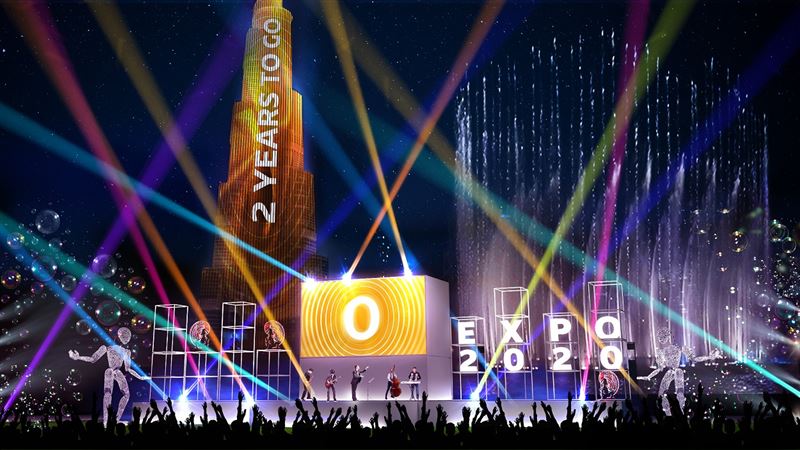 Incredible things happen when humans come together and push their limits to the furthest extremes. In two years, Expo 2020 will show the world just how far we can go.
Watch:
— Expo 2020 Dubai (@expo2020dubai) October 19, 2018
The two-year countdown to Expo 2020 Dubai will officially start ticking on Saturday, 20 October with a public celebration at Burj Park in Downtown Dubai, offering the community a glimpse of what is to come at the biggest event to ever be held in the region.
A specially choreographed show of The Dubai Fountain and display on the Burj Khalifa façade at 2020 (20 minutes past 8pm) will mark the milestone moment. A jam-packed activity and entertainment programme will run from 1700 to 2200 in Burj Park, with something to suit all members of the family.
Visitors will arrive via the 'Bridge of Moments', an illuminated entrance, before being taken on an exciting journey across five fun-filled zones – each representing a part of the Expo 2020 Dubai experience and bringing to life its theme of 'Connecting Minds, Creating the Future'.
Expect contemporary art exhibits, gastronomic wonders from around the world, live music performances, world dance, the opportunity to sign up as an Expo 2020 volunteer and so much more. Expo 2020, the first World Expo to be held in the Middle East, Africa and South Asia (MEASA) region, will run from 20 October, 2020 to 10 April, 2021.
It is expected to attract 25 million visits, with 70 per cent of visitors projected to come from outside the UAE – the largest proportion of international visitors in the 167-year history of World Expos.
What: Expo 2020 Dubai two-year countdown celebration
Where: Burj Park, Downtown Dubai
When: Saturday, 20 October, 2018
Time: 1700 to 2200