Jeff Bezos and his wife, MacKenzie Bezos, launched a $2 billion fund to help homeless families and create a network of nonprofit preschools in low-income communities.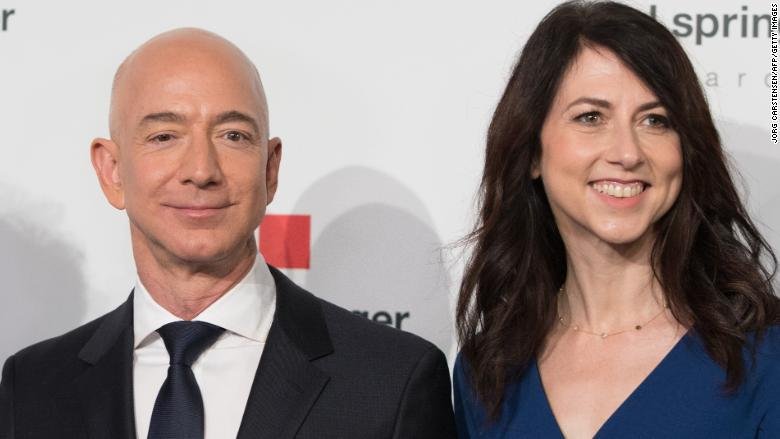 The move catapults the world's richest person into a rarefied group of billionaire megadonors at a time when his company, Amazon.com Inc., faces growing scrutiny over its rising power and impact on the economy.
Read Jeff Bezos' full statement about his $2 billion Day One fund:
I talk often about the importance of maintaining a Day mentality. It's always Day 1, and I work hard to apply that mindset to everything I do. It was a Day 1 outlook that made me reach out to ask for suggestions on approaches to philanthropy last year. By so many important measures the world keeps getting better, and it's one of the fantastic aspects of human nature that we humans never stop looking for (and finding!) ways to improve things. Our lives are better than our great grandparents' lives before them. If our own great grandchildren don't have lives better than ours, something has gone very wrong. Where's the good in the world, and how can we spread it? Where are the opportunities to make things better? These are exciting questions.
MacKenzie and I share a belief in the potential for hard work from anyone to serve others. We all have that capacity. Business innovators who invent products that empower, authors who write books that inspire, government officials who serve their communities, teachers, doctors, carpenters, entertainers who make us laugh and cry, parents who raise children who go on to live lives of courage and compassion, and many more. In addition to Amazon, my area of focus so far have included investment in the future of our planet and civilization through the development of foundational space infrastructure, support of American democracy through stewardship of the Washington Post, and financial contributions to the dedicated and innovative champions of a variety of causes, from cancer research, to marriage equality, to college scholarships for immigrant students, to decreasing political polarization through cross-partisan support of principles, next-generation military vets running for Congress.
We're excited today to announce the Bezos Day One Fund. It will begin with the commitment of $2 billion and focus on two areas: funding existing non-profits that help homeless families, and creating a network of new, non-profit, tier-one preschools in low-income communities.
The Day 1 Families Fund will issue annual leadership awards to organizations and civic groups doing compassionate, needle-moving work to provide shelter and hunger support to address the immediate needs of young families. The vision statement comes from the inspiring Mary's Place in Seattle: no child sleeps outside.
The Day 1 Academies Fund will launch and operate a network of high-quality, full-scholarship, Montessori-inspired preschools in underserved communities. We will build an organization to directly operate these preschools. I'm excited about that because it will give us the opportunity to learn, invent, and improve. We'll use the same set of principles that have driven Amazon. Most important among those will be genuine, intense customer obsession. The child will be the customer. "Education is not the filling of a pail, but the lighting of a fire." And lighting the fire early is a giant leg up for any child.
I want to close be thanking everyone who sent me suggestions, and for the inspiring examples of innovation I see every day, large and small. It fills me with gratitude and optimism to be part of a species so bent on self-improvement.
It remains Day 1!
-Jeff
September 13, 2018