Acting President Yemi Osinbajo was treated to a warm reception at the home of President Muhammadu Buhari's eldest sister, Hajiya Rakiya Adamu, when he visited Katsina, on Thursday.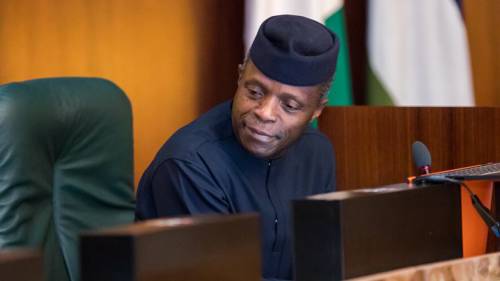 Osinbajo was in Kaduna to rally support for the All Progressives Congress (APC) candidate in the forthcoming Katsina North Senatorial polls, Honourable Ahmad Kaita. In a tweet by Laolu Akande, Senior Special Assistant on Media and Publicity to Osinbajo, the Katsina people expressed their support for the APC administration. The tweet read: "Acting President Osinbajo says the APC is fighting the battle to secure the good of the common man as he leads party stalwarts to rally support for Honourable Ahmad Kaita in Saturday's Katsina North senatorial polls."
Osinbajo was earlier received by Farouk Umar Farouk, the Emir of Daura, in his palace. "In his remarks to the Acting President, the Emir said the people of Daura are 100 per cent behind the President, the Acting President and his actions, commending him for being a very loyal and effective deputy to President Muhammadu Buhari, who hails from Daura," Akande tweeted.
According to Akande, Osinbajo said: "the purpose of the APC and President Buhari is to uphold the common man," adding that "the Federal Government is doing more with 60 per cent less earnings than previous administrations."