A steady stream of mourners, of all ages and political persuasions, lined up outside the Arizona State Capitol in the midday 104-degree heat to pay their respects to Sen. John McCain.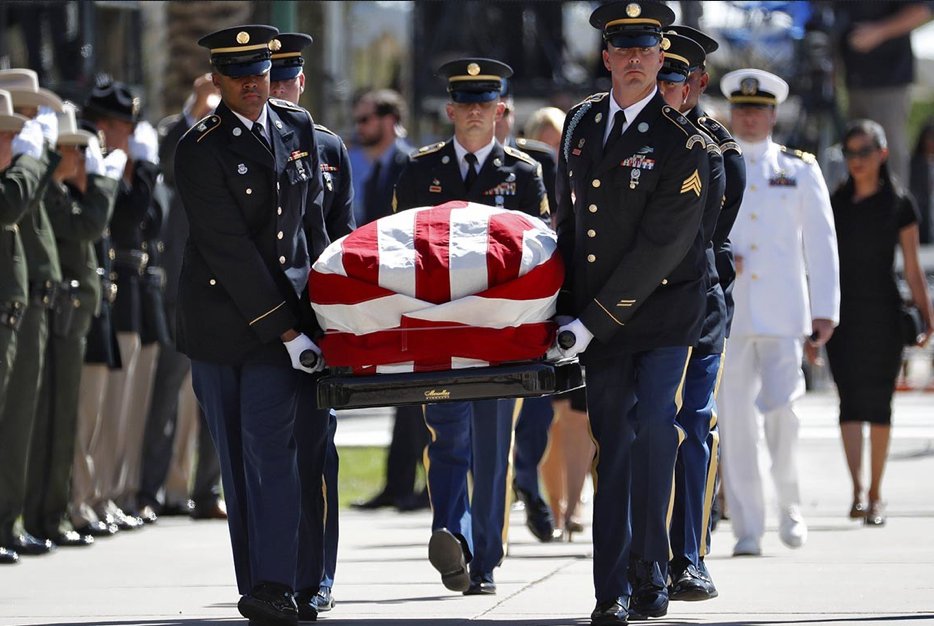 Among them was John Goodie, a former Mesa High School security guard and football coach, who arrived two hours early carrying an American flag to remember the man who once sought him out in the most unexpected of encounters.
John McCain's wife kissed the late senator's coffin as it arrived at the Arizona State Capitol building in Phoenix. Cindy, 64, rested her head on the Stars and Stripes pall on what would have been her husband's 82nd birthday today.
His body will lie in state before his final journey to the US Naval Academy in Washington DC. John's daughter Meghan broke down in tears as his sons, Jack and Jimmy, saluted the casket. His remains will be transported to DC on Friday where there will be a ceremony in his honour at the Capitol building. A funeral will take place at Washington's National Cathedral on Saturday and he will be buried at Hospital Hill at Naval Academy Cemetery on Sunday.